CLEAN

TREAT

SPF

HYDRATE

EXFOLIATE
Regular price
Rs. 699.00
Sale price
Rs. 549.00
Unit price
per
Coming Soon
Rivona Naturals 20% Vitamin C Serum Infused With Powerful Ingredients Is a Water-Based, Lightweight, non- sticky Serum Specially Formulated To Brighten Skin Tone And Reduce Dark Spots.
Dermatologically Tested

Cruelty Free

Paraben Free

Phthalate Free

Vegan

pH Balanced

No Harmful Chemicals

Silicone Free
Share
View full details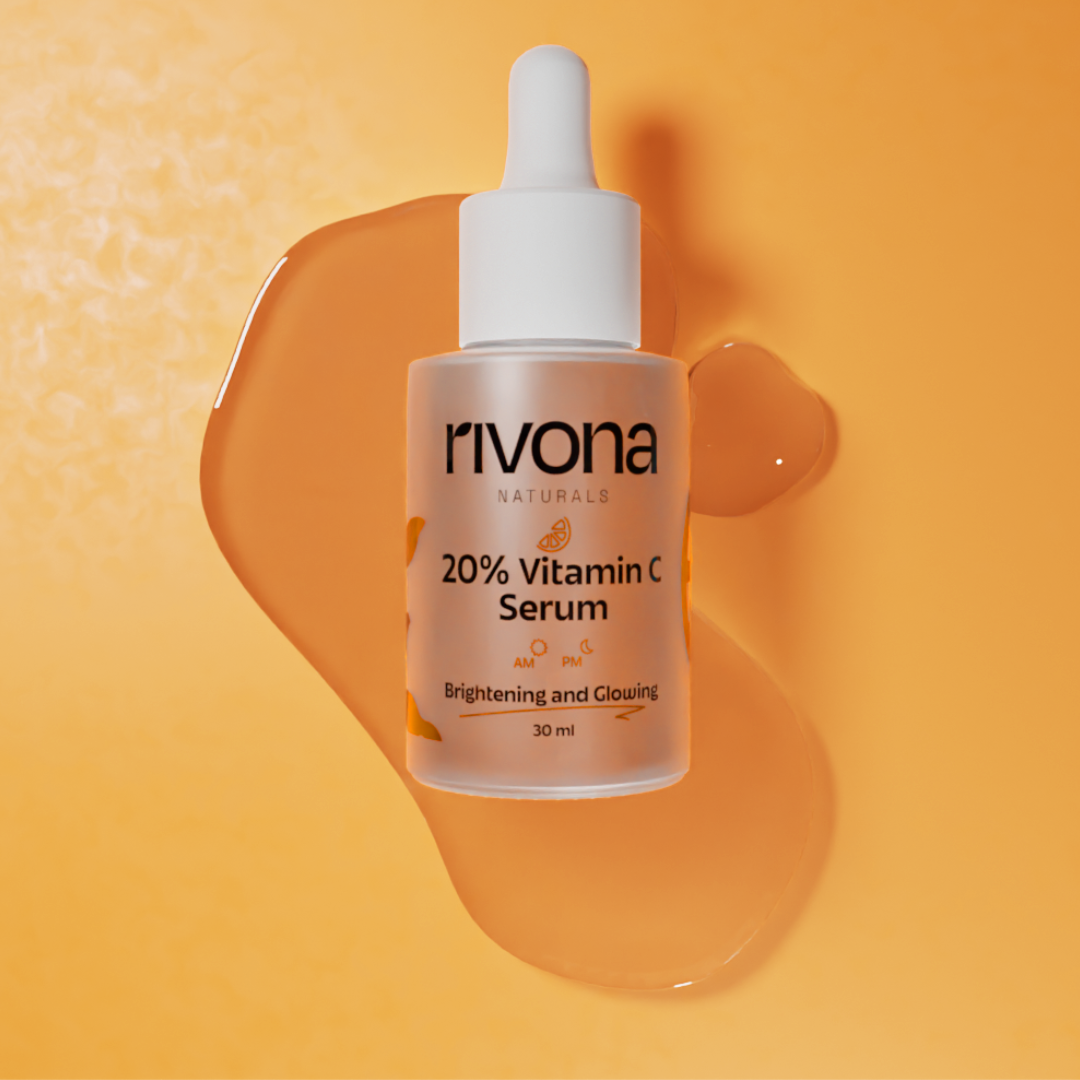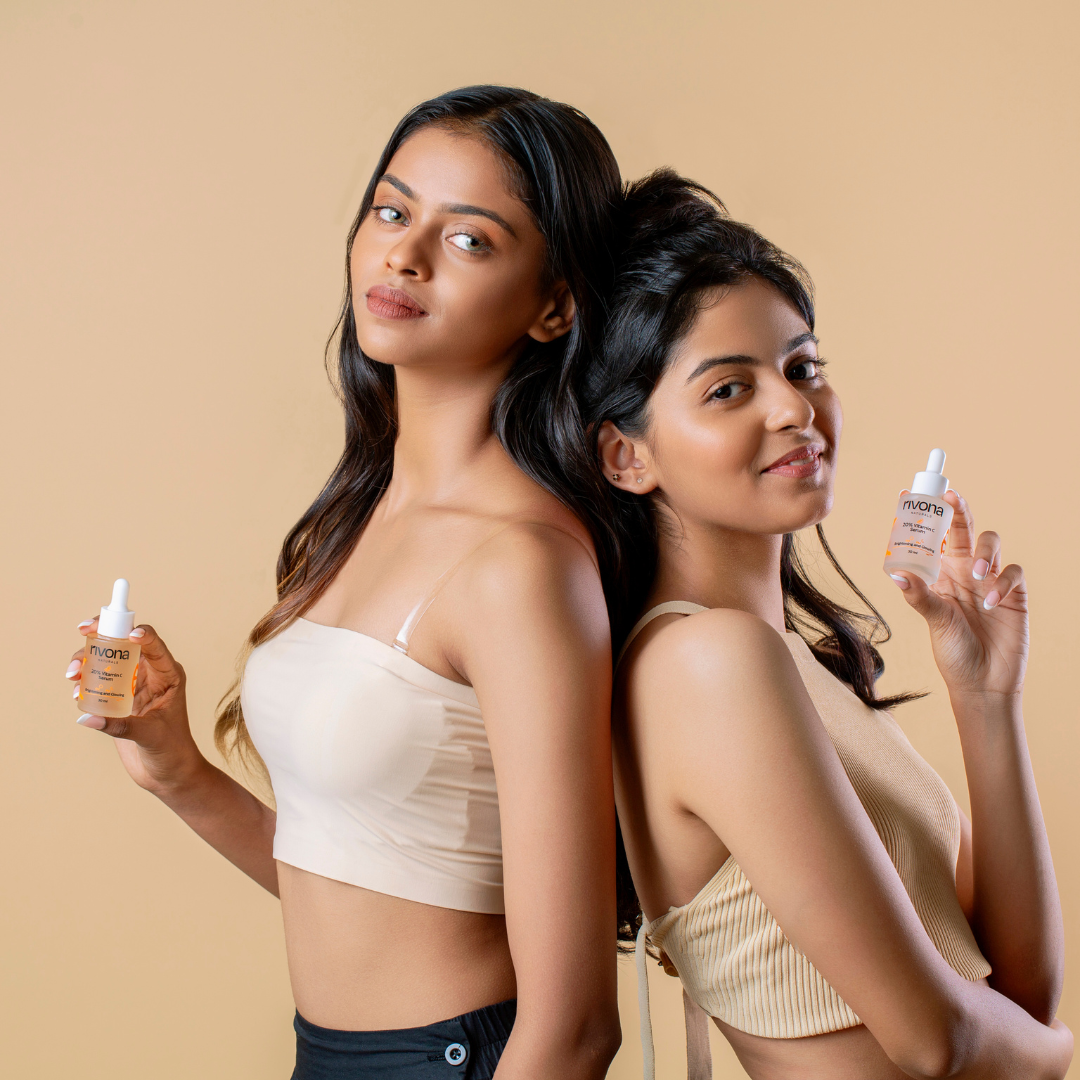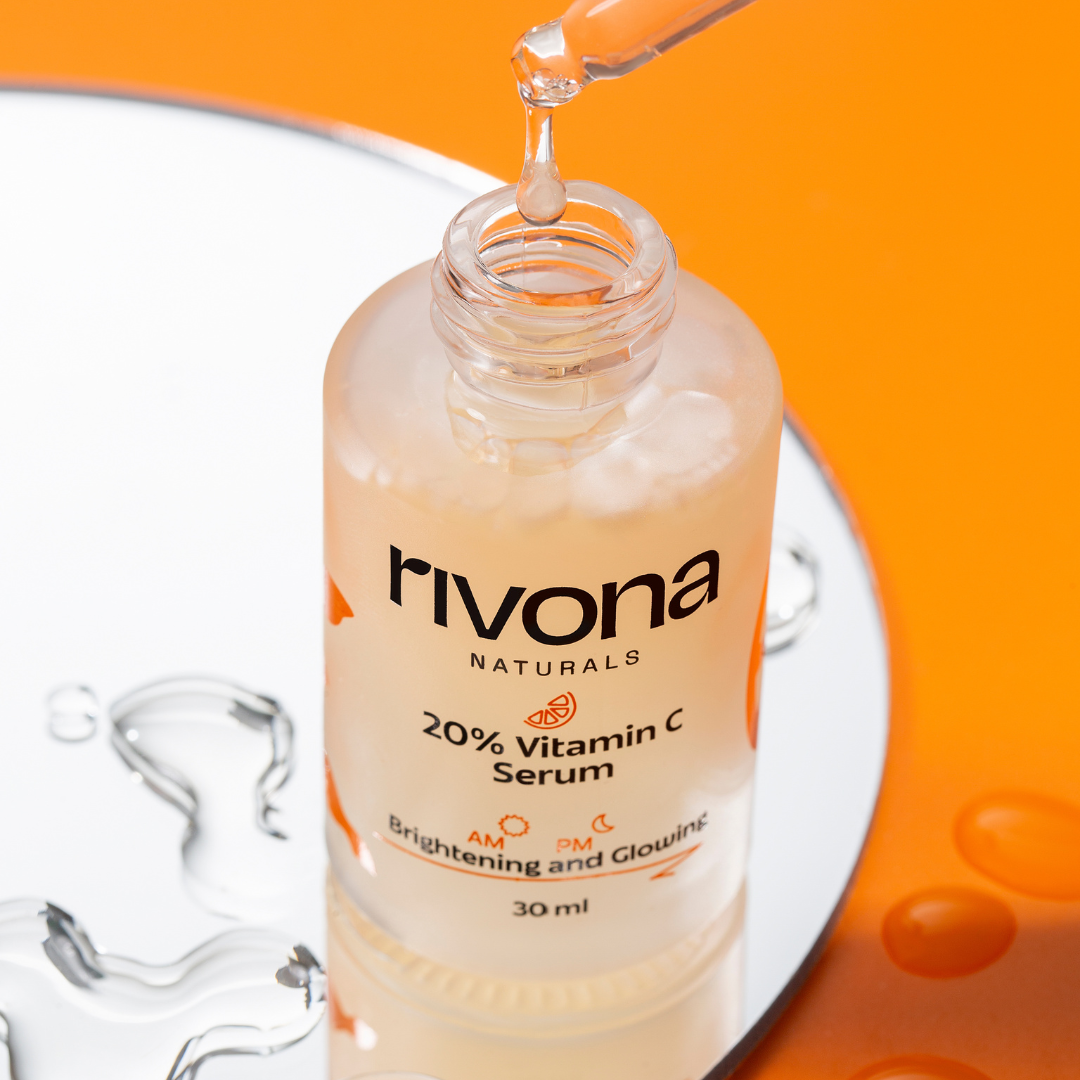 What is it made of?
Rivona's Vitamin C Serum is made with a blend of powerful natural ingredients, including alovera, vitamic C, hyaluronic acid, witch hazel.
A stable form of Vitamin C providing antioxidant benefits, reduces hyperpigmentation promoting towards a more even skin tone.

Ascorbyl Glucoside

Grape extract contains
antioxidants and polyphenols fights sun damage, signs of aging, promotes skin elasticity, reduces the appearance of fine lines and wrinkles.

Grape Extract

Kakadu plum is a super fruit, known for its exceptional antioxidant content, brightens the skin, reduce hyperpigmentation, improves skin texture infused with antibacterial properties that can be beneficial for acne-prone skin.

Kakadu Plum Extract

A potential antioxidant brightening
skin, promoting collagen production and protecting against damage caused by free radicles.

Ascorbic acid

Shields your skin from environmental stressors while enhancing radiance

Ferulic Acid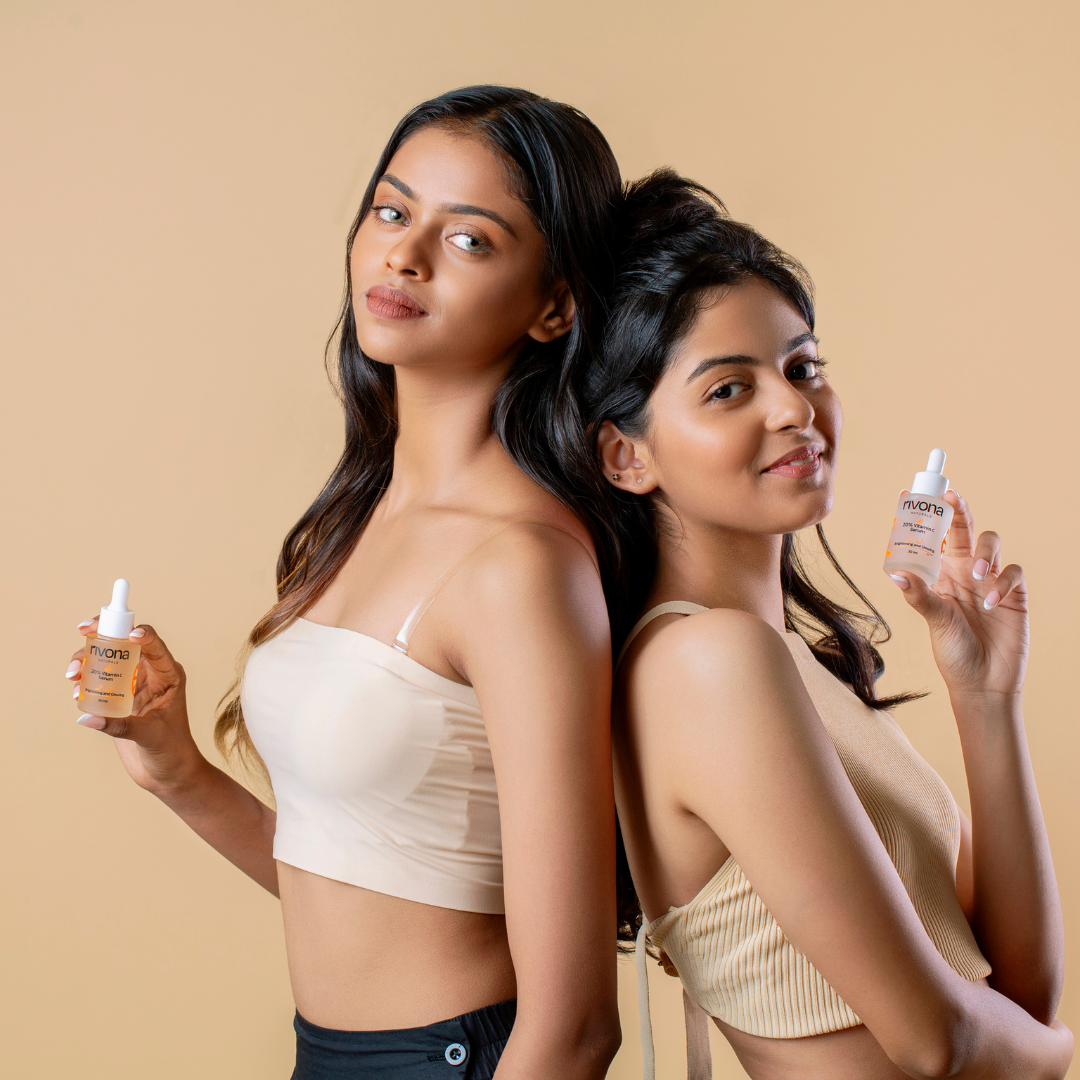 How will it help your skin?
Brightens and evens out skin tone.
Reduces the appearance of fine lines and wrinkles.
Fades dark spots and hyperpigmentation.
Provides antioxidant protection.
Boosts collagen production.
Hydrates and nourishes the skin.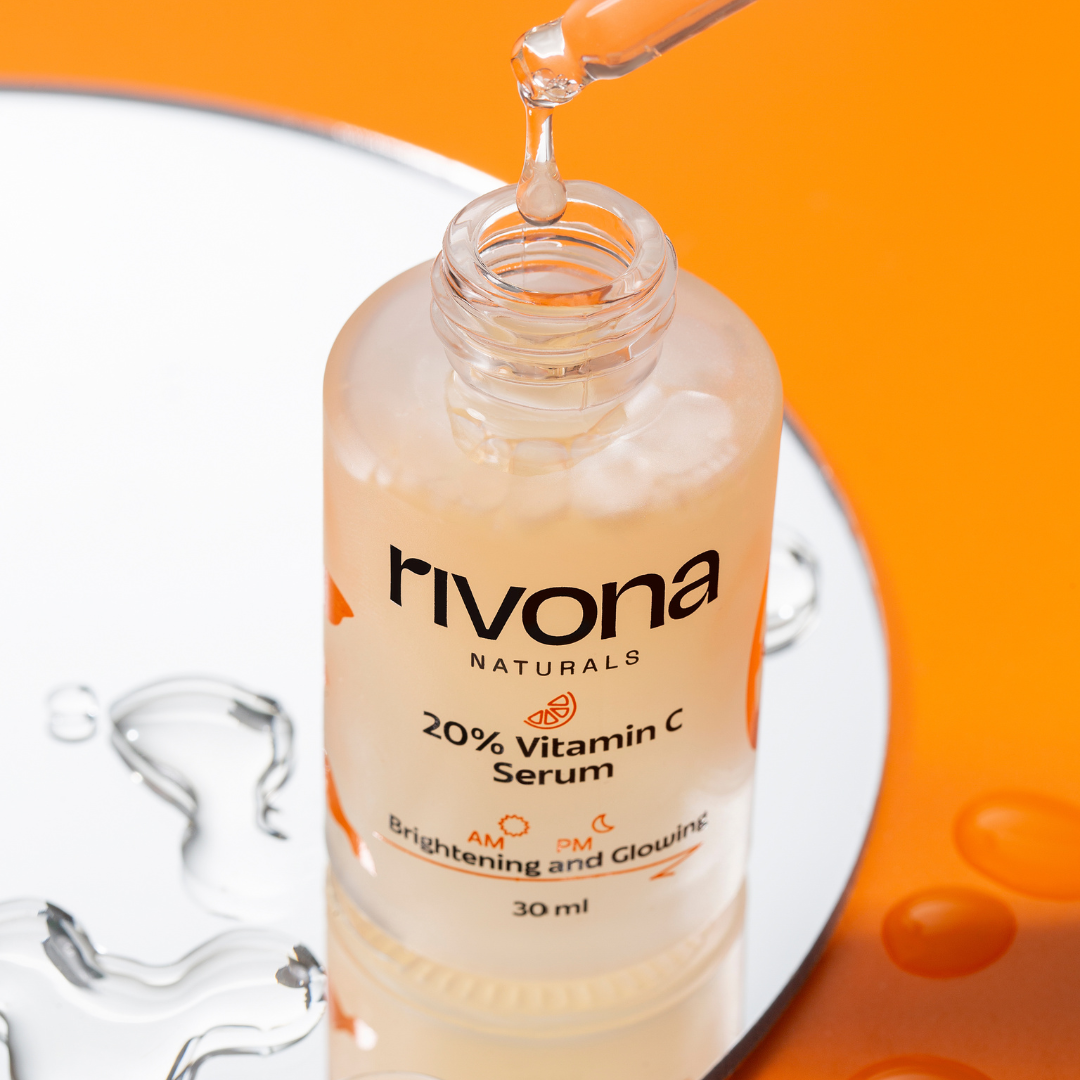 Who is it for?
Rivona's Vitamin C Serum is suitable for all skin types and ages, but is especially beneficial for those looking to brighten and even out their skin tone, reduce the appearance of fine lines and wrinkles, or fade dark spots and hyperpigmentation.
Step 1

Cleanse your face with the Vitamin C Facewash.
Take a small amount of Vitamin C serum onto your fingertips.

Step 2

Apply the serum onto your face and neck, gently massaging it in circular motions.
Allow the serum to absorb into the skin for a few minutes.

Step 3

Finish with spf 50 sunscreen to lock in the benefits and protect your skin from UV rays.
Lightweight and Brightening
Compared to most serums, its super lightweight.
I love the freshness
This one Serum replaces so many products & serves multipurpose
excited to buy again
over all very eye catchy design , attractive range , good fragrance nodes and formulations are effective & suitable to all skin types ....MUST TRY full range
Best Vit C serum I've ever used
For such a high concentration of Vit C, most serums tend to be oily leaving you unable to use the serum in the morning/ day time, and also make it difficult to apply sunscreen on top.
Rivona's Vit C serum is perfectly watery and gel like, drying on your skin almost immediately and leaving it hydrated with no signs of a product even being used. MY FAVOURITE product.