CLEAN

TREAT

SPF

HYDRATE

EXFOLIATE
Regular price
Rs. 399.00
Sale price
Rs. 375.00
Unit price
per
Coming Soon
Rivona Naturals Makeup Cleansing Butter Is Enriched With 12 Active Herbs that nourish and avoid stripping your skin barrier. The Butter-Like Semi Solid texture allows for an easy and gentle make up cleansing process. 
Dermatologically Tested

Cruelty Free

Paraben Free

Silicone Free

Phthalate Free

Mineral Oil Free

Vegan

pH Balanced
Share
View full details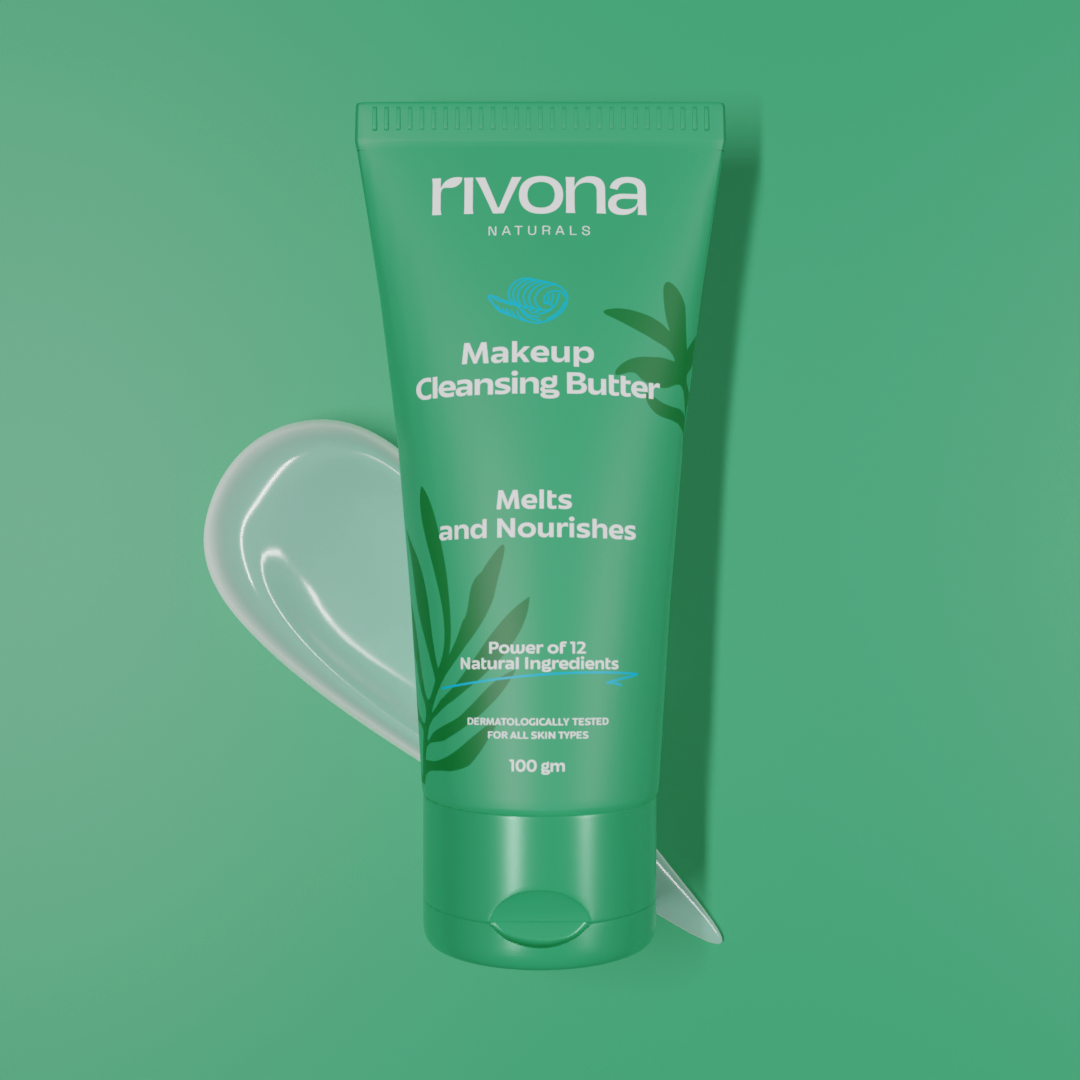 What is it made of?
Makeup cleansing butter not only removes the make smoothly but also removes impurities, providing nourished skin by fighting the concerns through it superhero ingredients locking up the moisture and providing healthier skin like never.
Effectively removes makeup, including waterproof products, while moisturizing the skin, dissolves impurities and leaves the skin feeling soft and smooth.

Coconut Oil

Mimics the skin's natural oils, providing excellent miniaturization without clogging pores, and helps to regulate oil production.

Jojoba Oil

Grape extract contains antioxidants and polyphenols fights sun damage, signs of aging, promotes skin elasticity, reduces the appearance of fine lines and wrinkles

Grapefruit Extract

Packed with antioxidants, protects the skin from environmental damage and fights signs of aging, has soothing properties that reduces inflammation

Green Tea Extract

Calms and soothes the skin, reducing redness and irritation. It is known for its anti-inflammatory properties and can help alleviate skin conditions such as eczema and rosacea.

Chamomile Extract

Contains natural enzymes that exfoliate the skin, removing dead skin cells and promoting
a brighter complexion, evens out skin tone and improve texture.

Papaya Fruit Extract

Rich in vitamins and antioxidants, it nourishes and revitalizes the skin, helping to reduce the appearance of wrinkles and promote a youthful complexion.

Noni Fruit Extract

High in vitamin C and E, it protects the skin from oxidative stress and supports collagen production, has moisturizing properties and helps maintain skin elasticity.

Kiwi Seed Extract

Packed with antioxidants, it protects the skin from environmental damage and promotes a healthy glow, infused with anti-aging properties and supports collagen production.

Pomegranate Extract

Known for its skin-regenerating properties, it helps improve skin elasticity and firmness, has anti-inflammatory effects, soothing the skin and reducing redness

Gotu Kola Extrac

Soothes and hydrates the skin, reduces inflammation, calms sensitive skin, has antibacterial properties heals and repair the skin

Aloe Vera Extract

Provides intense hydration and nourishment to the skin, helping to improve its elasticity and smoothness, replenishes the skin's moisture barrier and soothes dry and irritated skin.

Shea Butter
How will it help your skin?
Melts away all traces of makeup, dirt, and excess oils.
Nourishes and hydrates the skin.
Provides antioxidant benefits and healing properties.
Antibacterial and non-comedogenic, making it safe for all skin types.
Free from harmful chemicals such as parabens, sulphates, and phthalates.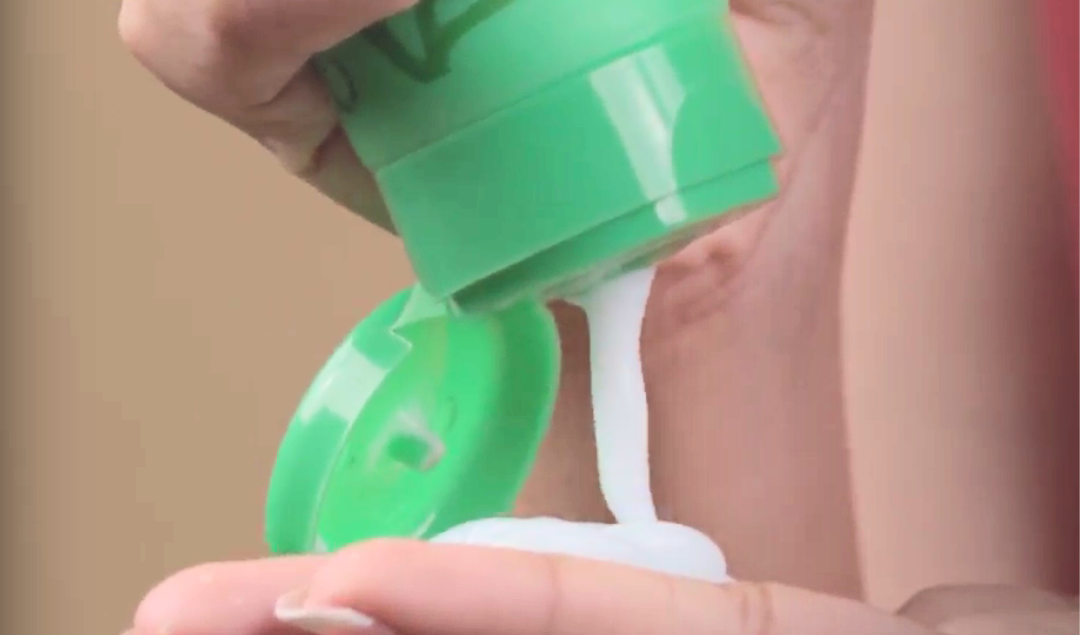 Who is it for?
Our cleansing balm is perfect for anyone who wants to remove their makeup quickly and effectively while nourishing their skin at the same time.
It is suitable for all skin types, including sensitive skin.
How to use it?
The makeup cleansing butter effectively removes makeup, dirt, and impurities while leaving your skin feeling nourished and moisturized.
Step 1

Begin with dry hands.
Take a small amount of the makeup cleansing butter and warm it up between your palms.
Gently massage the butter onto your face, focusing on areas with makeup

Step 2

Continue massaging for a minute or two to dissolve the makeup.
Wet your hands and massage your face again, emulsifying the cleansing butter into a milky texture.

Step 3

Rinse your face thoroughly with lukewarm water.
Pat your face dry with a clean towel. Apply HA serum & Crème for extra boost of hydration
Amazing
Love the concept of this makeup butter; entirely reverses the dryness of the skin from hours of wearing makeup while effectively removing the makeup as well.
Great waking up without makeup smeared across my face now.
Removes makeup really soflty
Being airhostess, I have to wear make up everyday & then the time it took to take off was tedious after tiring work hours.
This 12 herb Make up cleanser has fixed the issue completely... Love it!!
excellent cleanser
Removes makeup very effortlessly. Would recommend!!