CLEAN

TREAT

SPF

HYDRATE

EXFOLIATE
Regular price
Rs. 299.00
Sale price
Rs. 284.00
Unit price
per
Coming Soon
Rivona's 99% Aloe Vera Gel is a non-greasy multipurpose formulation with multiple beauty benefits for natural self-care. Try it now and experience the magic of Aloe Vera Gel!
Dermatologically Tested

Cruelty Free

Paraben Free

Silicone Free

Phthalate Free

Vegan

pH Balanced

No Harmful Chemicals
Share
View full details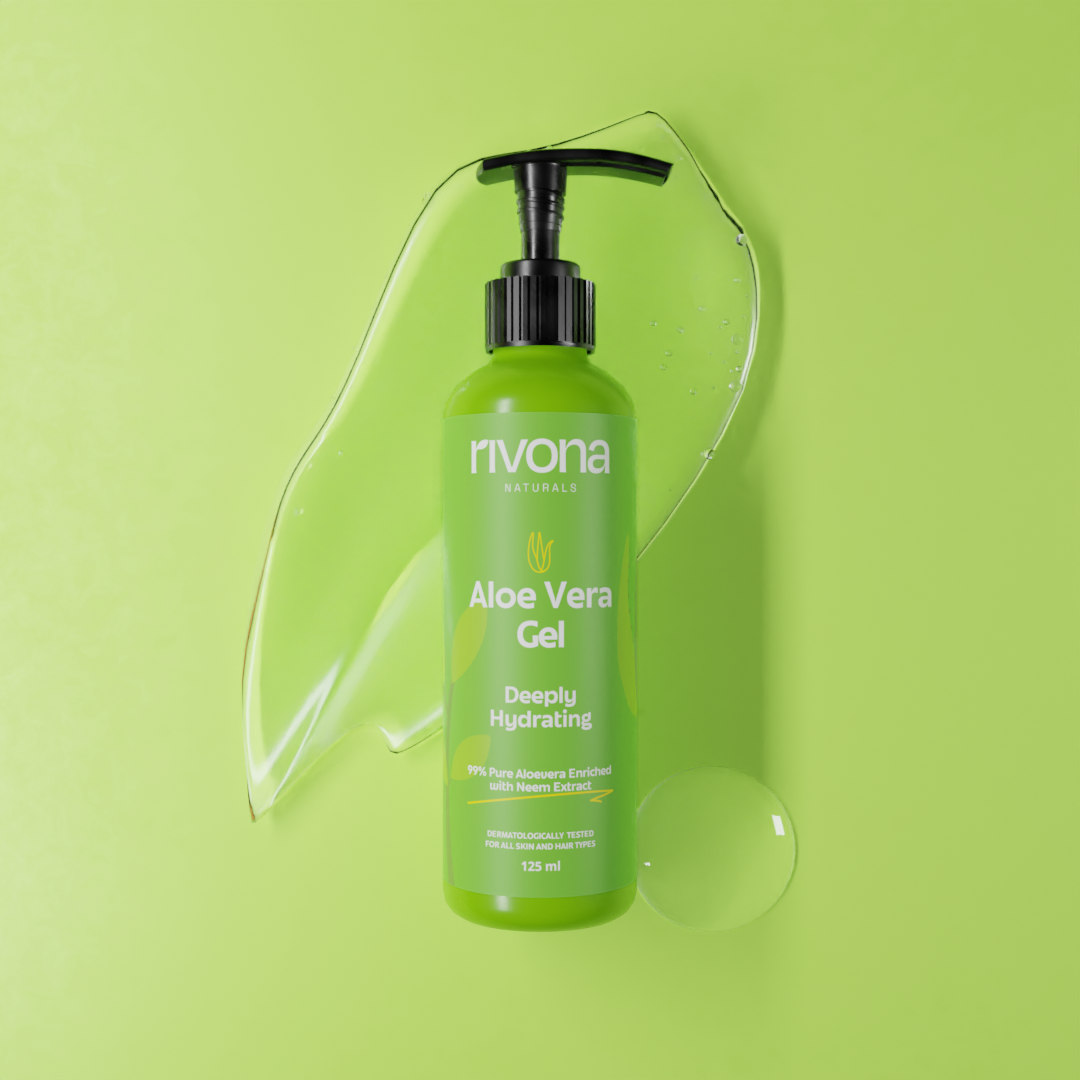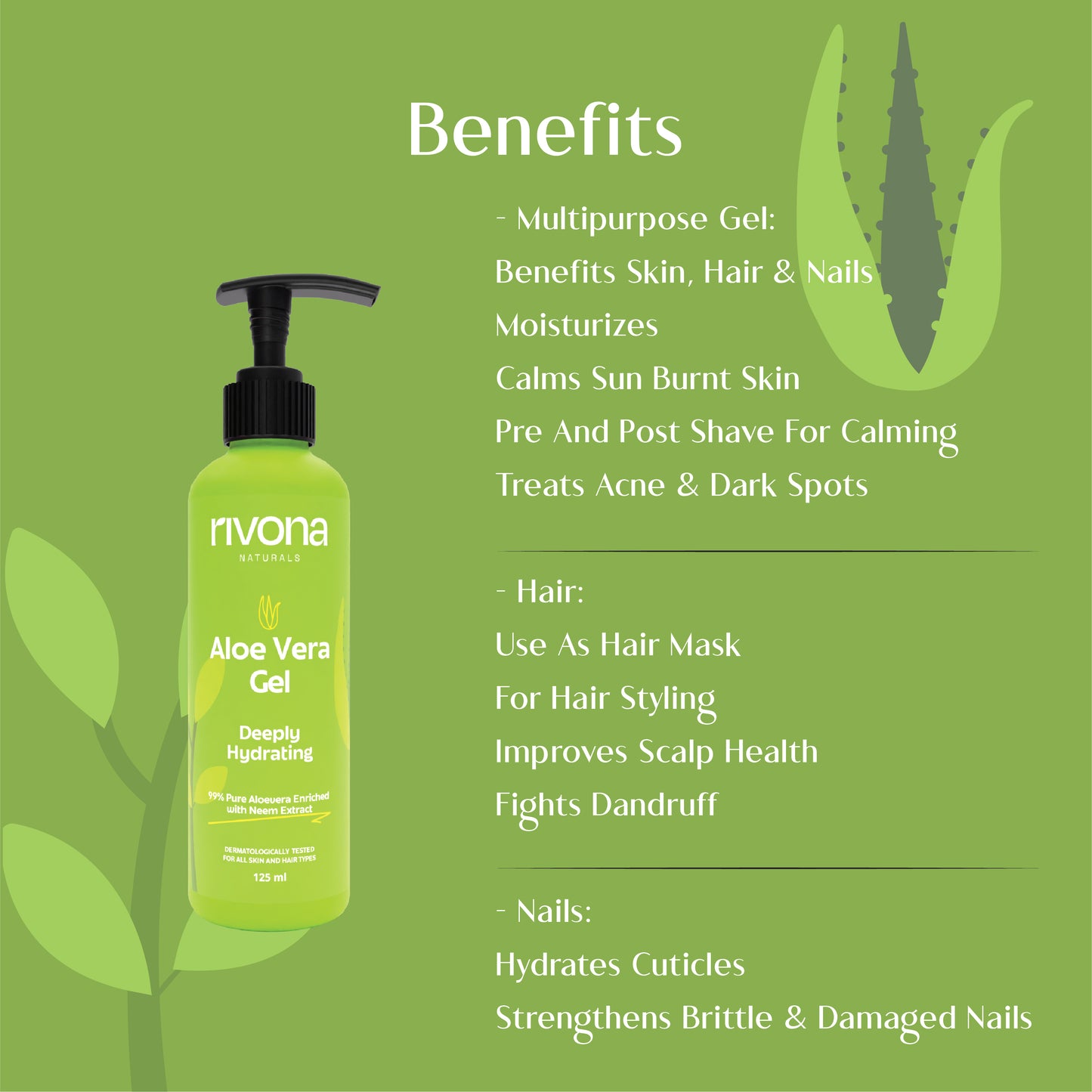 What is it made of?
Rivona's Aloe Vera Gel is made of a lightweight and non-greasy formula enriched with 99% pure and natural Aloe Vera and Neem extract. It is vegan, fragrance-free, and contains no artificial color, paraben, silicone, or mineral oil, making it gentle on the skin and hair.
Hydrates and soothes the skin, promotes healing, and has anti-inflammatory properties.

Aloe Vera 99% Pure Extract

Purifies and detoxifies the skin, helps treat acne and blemishes, and has antimicrobial properties

Neem Extract
How will it help your skin?
Deeply hydrates and purifies.
Soothes irritated skin affected by sunburn, acne, and redness.
Reduces under-eye darkness and puffiness.
Provides pre and post-shave care.
Softens extra dry skin areas such as knees, heels, elbows, and foot soles.
Great moisturizer with its light texture and water content.
Non-sticky and non-greasy formula.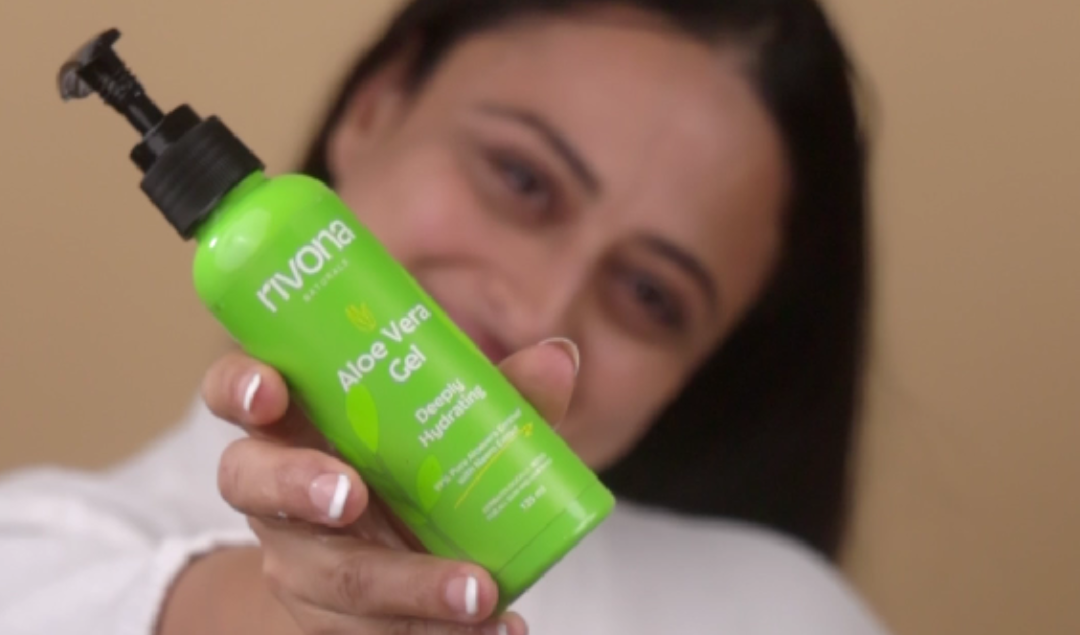 Who is it for?
Our Aloe Vera Gel is perfect for everyone, regardless of skin and hair type. It is suitable for men and women of all ages, making it an ideal addition to any skincare or haircare routine.
How to use it?
Moisturizer

Take a small amount of the gel and apply it to the desired area of the skin.
Gently massage until fully absorbed. Provides soothing and cooling effects on the skin, making it feel refreshed and hydrated.
Soothing Mask

Take a small amount of Aloe Vera gel and mix it with a few drops of honey or cucumber juice.
Apply on the face for 10-15 minutes for rinse off with warm water to get smooth skin.
Sunburn Relief

Apply all over your face, neck, or as required. Use it daily for the best results.
Acne Treatment

Aloe Vera has helped reduce acne and provide a clearer skin by applying a generous amount on the infected area.
Fading Dark Circles

Applying Aloe Vera gel as an eye mask using a cotton ball and dabbing will help reduce the puffiness and fade away dark circles.
Dandruff & Scalp health

Apply required amount of Aloe Vera gel in the hair leave it for 15-20 minutes and rinse off with lukewarm water, this helps in maintaining the pH level of the scalp by reducing the formation of excess oil production, making a healthier scalp environment for the hair to grow  
Hair Gel

Use Aloe Vera gel prior styling your hair to for a stronger hold on the styles hair, it is a heathier option for hair than the serums filled with chemicals.
BEST PRODUCT
Very effective product. This product actually works! If you are planning to purchase this for your skin, go for it.
Great product !
Love using this after shaving my face. Super moisturising